French version ==>
So here we are, it's 11h30am, the bumper is chromed at least and just like every years, a flood is expected all the way down to the track... But however when you gotta go, you gotta go !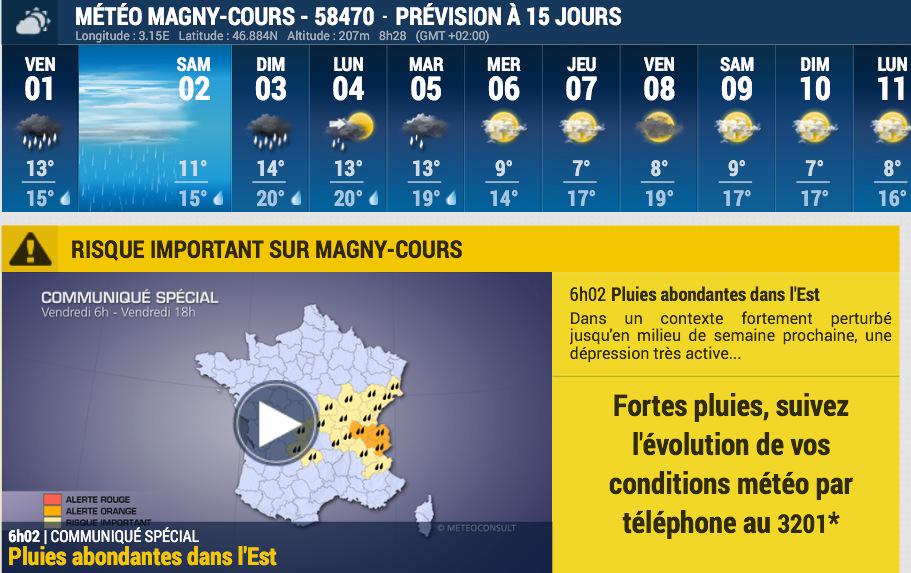 I can not help but think about my Japanese friends who often have no alternative but to ride on wet track. Besides, according to some professional drivers, their rain tires are just bluffing! From my side, my 205 wide Yokohama A048 will get the job done (I hope). Rather than face the highway and its terrible connections of hell 500 km (yes I swear! It is a hassle with the camber and offset!), I decided to go through the back roads, anyway I will not go much slower. (yes I talk to myself there is no music!)
Once at destination (finally!), I could see a very familiar head, good old William the
W.Autosport
boss, the undisputed specialist about Nissan in France. This is also within its walls than the Civic and myself spent the night after having swallowed a good burger with a completely unreasonable amounts of fries with the friends from the 60. Many thanks to William and Severine for their warm welcome! m (_ _) m
Well well well, truces nonsense! Let's get into the nitty-gritty, the track! Magny-Cours Classics Days all that ... Bah voila, here we are, this is the big day and as expected it's raining! Well that's it and we can do nothing ... I did not have a lot of mods to compare with from the last time so whatever. The sessions were more or less wet but never really soaked! Apart from this one where we were not really many ... on the track.
So not even a shadow of concern, apart from a noise that makes me think that the rockers 230000 km olds are beginning to tire a bit.
Unfortunately not keen enough at registration, I could not put myself into the usual group, and thus pull the floss with friends, it's only a postponement! This does not stop me any time to have fun like crazy! (thank you Gregory the cameraman at the moment). I allowed myself this little montage where we clearly see that ... Pantera works well !
I have not taken any laptimes but most important is that I have really enjoyed it and giving fun to the crow was (believe me) as cool ! About that, seeing people standing up to greet the car in the cooling lap was ... really, really ... really very moving! (a little too much maybe ...)
I also wish to greet all the curious people who came to talk with me, it's always a pleasure to share with passionate people. Then obviously friends of long dates who will recognize them-self.
And while we are in the acknowledgments, a huge thank you to the photographers! Your photos are a great help. Including those in corners where you can get an idea of how the suspension work! Do not hesitate to visit their respective pages.
Sonick Photographie: http://www.sonickphotographie.fr/
Mickael Roux Photographe: https://www.flickr.com/people/japcars/
BeuhBeuh Photographie: http://www.beuhbeuh.fr/
Meca Sport Photographer: https://fr-fr.facebook.com/Mecasport.Photographer